This Chocolate Cake is seriously the best chocolate cake you'll ever make. When Baker's (then owned by General Foods) discovered the source of the run on its product, the company began printing the cake recipe on the chocolate's green wrapper and in advertisements, also plugging the company's flaked coconut, replete with eye-catching photos of the cake, further increasing its popularity.
I thought it was going to be a bit of a disaster as part of the top fell off when I cut the cake in half (I abandoned the idea of two layers) but I secured it with cocktail sticks and chucked the ganache over and it seemed to secure it back into place.
Holt goes for a frosting on top, with cocoa powder, icing sugar, butter and muscovado sugar – it's very nice but sets quite hard, which I'm not keen on. I prefer Vanilli's cocoa buttercream, although I don't think it requires double cream as well as milk.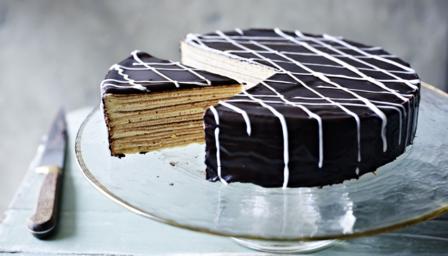 Now pop the cake into the oven to bake until it looks nice and brown and doesn't jiggle anywhere when you, uh, jiggle it—the recipe says an hour, but mine is always done after 40 or 45 minutes; if your pan is smaller (and your batter therefore deeper) it may take a bit longer.
I bake for a living, and I have struggled with chocolate cakes, trying to find one that's moist, chocolatey and decadent, but this is it. Followed the recipe to the letter, it rose to the perfect height to cut into three layers, I made my own chocolate ganache filling but this is going to be my chocolate cake recipe from now on, and its so easy!!!