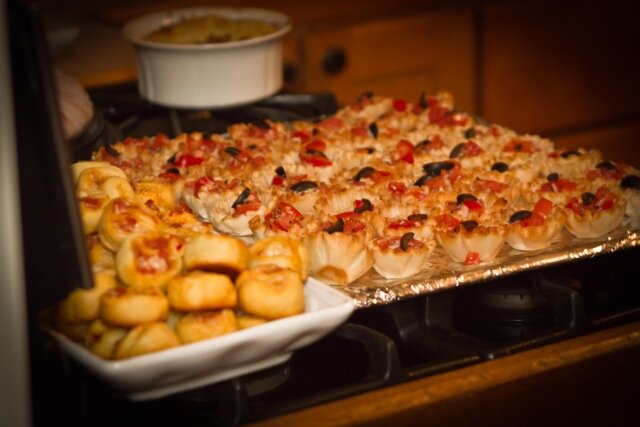 Is there a corporate event, birthday party planned in your office, or do you just want to have a delicious lunch at your workplace? Office lunch delivery is a relatively "young" service, which has already acquired thousands of fans, making it popular and highly demanded. Now office workers do not need to worry about how to arrange a party, who will buy groceries and prepare snacks. Mangia Catering will take care of all these issues. 
Are you going to celebrate your birthday at work and want to complement the table prepared with original buffet snacks? We will offer you a wide range of festive food – tartlets, canapés, rolls, desserts and mini-pastries, while we have interesting offerings for hot dishes in mini-serving. Our table set ups always look elegant and unique that your guests will remember the catering and they will definitely want to repeat. At a time convenient for you, you can contact us and order catering directly to the office by phone +1 (212 )582-5882 or online directly on our website. Our service is designed both for servicing small offices and large companies.
Catering service in your office: how to order?
For a successful event planning, it is important to coordinate every detail with our catering agents. You choose the format of your feast, and we offer those meals that will decorate the festive table and collect approving reviews from all your business partners. Stages of organizing a buffet table are as following:
Ordering any catering in the office begins with the preparation of the menu. All the names of banquet meals are presented on our website, where you will also find options for combinations of food, table setting and recipes for appetizers. You just need to tell the catering agent about your wishes, and we will offer you those options that will fit perfectly into the occasion.
The date and time of the catering event agreed.
The delivery of all products and freshly prepared meals is being made by our own Mangia delivery boys and not by third party companies.
At the request of the client, we will make the table setting. If we are talking about an ordinary lunch, then it is possible to deliver buffet meals in special convenient lunch boxes.
Benefits of corporate catering by Mangia
Our company will take care of all the hassle of organizing your office celebration. We offer a wide range of hot and cold snacks, the taste and presentation of which will delight the entire team. The menu, consisting of the most delicious and original dishes, will create an exquisite restaurant atmosphere, which will surely cheer up your employees.
In addition, you can order a buffet table at the office inexpensively: we offer corporate holiday menus for all budgets. Mangia Catering will arrange buffet snacks in such a way that the festive table will look presentable, appetizing with a great variety. Free yourself from the hassle of organizing corporate events – just use the services of professionals who will make your holiday unforgettable, beautiful and delicious.